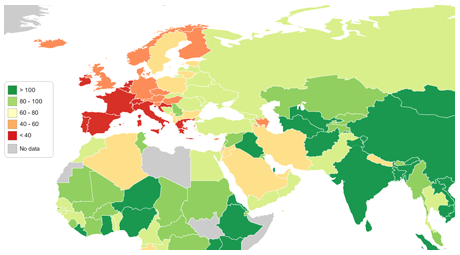 Explore interactive maps:
  World's top universities | Most liveable cities | Football rankings | more
The following tools can significantly reduce the size of your maps. Please note that significantly simplifying maps your maps can lead to blocky or jagged map borders, as well as cause map areas smaller than the 'tolerance area' to simply disappear. Therefore please use this with caution and verify that all map areas are still present following simplification. MapShaper is the recommended tool for this, as it has options on startup to prevent map areas from disappearing following simplification.
MapShaper is a free web-based utility for simplifying a map and significantly reducing the size. Maps of over 50 mb can sometimes be reduced to less than 1 mb. It is therefore very useful for creating lighter weight maps suitable for online publishing (for example, for web-based interactive maps). ​For step-by-step gudiance, see our MapShaper tutorial.
 
Quantum GIS can also be used to simplify shapefiles. First import your shapefile map via the menu, 'Layer' -> 'Add Vector Layer'. Once it is imported, go to 'Vector' -> 'Geometry Tools' -> 'Simplify geometries'. Use the default 'Simplify tolerance' value or insert your own (increase the value to increase simplification). To save the result, check 'Save to new file', and browse to a location for the new map file. For more details, see also the following tutorial.